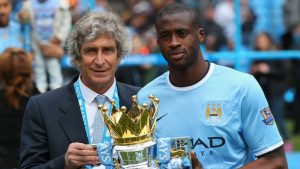 Manuel Pellegrini turned down a move for his former Mancehster City midfielder in the summer.
And in so doing has probably indicated why his agent Dimitry Seluk posted a rather sad tweet declaring that West Ham wouldn't interest a player who is a champion.
Pellegrini revealed he spoke to the 35-year-old and that the Ivorian wanted to stay in the Premier League.
And he added: "Unfortunately they were the words of Yaya's agent."
Pellegrini, showing far more grace than the agent Seluk, explained: "I spoke to Yaya, I know him and appreciate him as a person.
He is a very good player but in the moment, when we were doing our squad list, that position was covered for other players.
We needed money to bring in players in other positions so we explained to Yaya clearly why he cannot come here."