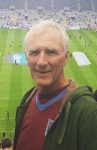 By CandH's Allen Cummings
Most of us feared the worst when we saw Marko Arnautovic hobble off before half time on Tuesday evening. Now our fears have been confirmed. He's sustained a hamstring injury and is likely to be out for several weeks. But is it really a disaster!?
Okay. Arnautovic has become a real crowd pleaser and talisman for the team this season. We love him, his attitude, his explosive pace and of course his goals. He's the team's joint top scorer with five goals alongside Felipe Anderson – but while Anderson has been on fire adding three goals in his last four games, Arnie has been smouldering and hasn't hit the back of the net since the beginning of November against Burnley.
He's drawn a blank in his last four games, and by his standards he's missed a few clear cut chances in those games – chances he would surely have gobbled up earlier in the season.
In my opinion his frustration has begun to show at times recently. I certainly don't feel he's been his usual, clinical self. We saw a consequence of the frustration against Cardiff. Arnie failed to finish a couple of chances early in the first half, and his frustration at that possibly resulted in him giving away a needless penalty.
An error that could have been costly, had Lukasz Fabianski not produced an excellent save to get his team mate out of the dog house. Arnie's anger at the referee's decision continued to fester, eventually resulting in a yellow card. Shortly after of course he limped off – his game done.
Arnautovic has been carrying a knee problem for some time now. He's found himself subject to a lot of disruptive transfer speculation – courtesy of some ill-advised comments from his brother. And the goals he thrives on have dried up.
This enforced layoff, while not ideal , could have come at possibly an opportune moment, if that's possible. A break from the pressure of games, goals and expectations might just be what the doctor ordered. We could see and reap the benefits of a rested and rejuvenated Arnie when he makes his return.