It could only happen at West Ham (seemingly an endless series!)
Put your hand up if you can remember the time when West Ham flop Paulo Futre (below) bought the number 10 shirt from John Moncur?
Let Harry explain…
Our first game was at Arsenal and the team-sheets had already gone in, but there was a problem.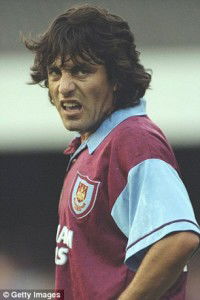 Eddie Gillam, our trainer, had given him the No 16 shirt and got it thrown back in his face. Next thing, Futre was in my face, too. 'Futre 10, not 16,' he said. 'Eusebio 10, Maradona 10, Pele 10; Futre 10, not f***ing 16.'
By this point, there were 45 minutes to kick-off. 'It's changed now,' I explained, as gently as I could. 'We've got squad numbers and your number is 16. We didn't choose that number. When you came, all the numbers were gone, so the kit man gave you No 16.'
'No 10,' he insisted. 'Futre 10. No 10. Milan, Atletico Madrid, Porto, Benfica, Sporting — Futre 10.'
Now it was getting desperate. I tried to be firm. 'Come on mate, put your shirt on, get changed, please, we have a big game. If you don't want to wear it, off you go,' I said.
And he did…
The following Monday, Futre came back in with his team of lawyers to negotiate for the No 10 shirt.
At first we tried to tell him that we had sold so many replicas with 'Futre 16' on the back that it would be impossible to change, but he called our bluff.
'How many?' he asked. 'I will pay £100,000.' And that was when I knew this was an argument we could not win. Futre was willing to spend £100,000 just to be No 10. In the end, he got it a lot cheaper.
John Moncur, the No 10, agreed to swap, and Futre let him have two weeks in his villa in the Algarve, which is about the best one there, on the cliffs overlooking the best golf course.
Not that it did him any good, he only played nine games for us and guess how many goals he scored? Yes, correct !
xxxxxx
I don't like Chelski very much and I don`t really want to talk or indeed write about them. But these recent insane signings (£300 million) does make one think how can they spend so freely without falling foul of Uefa`s Financial Fair Play (FFP) regulations?
Implemented at the start of the 2011-12 season, Uefa's Financial Fair Play Regulations are a measure designed to prevent football clubs recklessly spending more than they earn in pursuit of success. The regulations outline sanctions for clubs found to have overspent.
Uefa's FFP rules allow only a £53m loss over a rolling three-year period, and the body has also introduced a soft wage cap, which also includes spending on agents fees and net transfer fees, at 90% of revenue for next season.
The Premier League's FFP rules differ slightly – clubs are allowed a loss of £105m over a rolling three-year period.
With me so far? Good, I will carry on.
Now, this is where it gets a bit complicated because a key aspect of Chelsea's compliance with FFP rules is amortisation. Put simply (for any Millwall supporters reading this) means that Chelski spread the cost of a transfer across the length of the contract of the signed player, to prevent significant single-year expenditure.
You may have noticed that many of the club's new recruits have agreed long-term deals. Mudryk signed an EIGHT year deal that will run to 2031 – that enables Chelski to spread the transfer fee they paid Shakthar Donetsk for the Ukrainian across that period in their accounts. There is an inherent risk to offering such long contracts if the purchased player proves to be hopeless, but it is a favoured tactic of Chelsea's new owners, with Fernandez and Fofana among the other players to have agreed to extended deals.
Additionally, transfer fees received are not amortised – the reported £12m Arsenal paid Chelski for Jorginho enters the accounts immediately, offsetting the amortised costs of the club's signings. Uefa are set to change the amortisation rules in the summer, limiting clubs to only a five-year spread of transfer costs.
I don`t care. No matter how you dress it up, it is cheating fair and square, bang to rights, You`re nicked etc  (cue theme music for The Sweeney – ask your Grandad)
xxxxx
Let`s finish with another look at the wonderful world of Harry Redknapp
Harry gets a letter delivered to his house.
Opens it, it's an electricity bill for £37,000 forwarded on from West Ham United football Club..
He rings the club, "I think there's been a mistake, you sent me a bill but I haven't worked for you for years."
No Harry sorry, but there's no mistake……
You were the last person in the trophy room in 2001 and you left the f****ing lights on!"
In "I`m a Celebrity , Get me out of here" – during a Bush Tucker trial
"Witchetty Grub, Harry?"
Redknapp: "Triffic, triffic player."