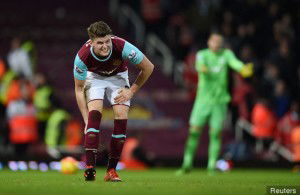 West Ham  will consider Sam Byram's long term future during next season following the arrival of hugely experienced Pablo Zabaleta.
The £4 million signing from Leeds was believed to be a player for the following season when he arrived at the club in the 2016 transfer window but proved himself unable to step up when given the opportunity.
And although he had a decent end to last season it may all prove too little too late as the Hammers bid to beef up a squad which experienced the most difficult of seasons.
He had made just 26 appearances since arriving in January 2016 although last season was interrupted by injury.
Now – with Zabaletta inheriting the position as first choice  the club are set to listen to any interest that may emerge in Byram once they have identified and moved for a back up to the Argentine.
Nothing will be done until suitable cover is found for the position as the club has no intentions of leaving itself 'stretched' in any position.