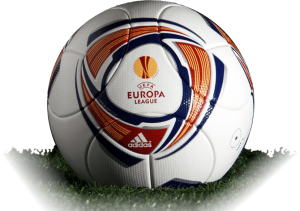 The Irons will only have to give five per cent of their home seats to visiting fans in the Europa Cup tournament  as opposed to the 15 per cent for domestic Cup clashes.
Uefa rules allow for five per cent of the tickets for visiting fans which equates to just 1,750 seats, leaving around 33,000 for Hammers fans wanting the experience European competition.
Europa league regulations say:  'All clubs in the competition must make at least 5% of the total capacity of their stadium available exclusively to visiting supporters, in a segregated, safe area. In addition, visiting clubs are entitled to purchase up to 200 top-category tickets for their VIP supporters'
In addition UEFA states "The official UEFA representatives and at least 20 representatives of the visiting club and its association must be provided with top-category seats (and associated hospitality) in the VIP sector."
Another difference between English Cup competitions and the Europa League is the home club gets to keep 100% of the ticket revenue unlike the FA Cup where the club keeps 45%.
If West Ham were to sell out 33,000 tickets at £20 each that would raise £660,000 per home game. We could well be involved in four home matches in the qualifying and play rounds before reaching the group stages bringing a potential and welcome £2.64m of ticket revenue in addition to any prize money we might earn from the TV rights distribution.
Unfortunately the away allocation rule works means of course that the top seeded West Ham – should they be drawn against a small team like Air UK Broughton FC in Wales – would see us receive a dismal ticket allocation.
Air UK's Hollingsworth Group stadium in Broughton is  famous for its retractable floodlights because it is built on an airfield. It  has a stadium capacity of just 1,600. A five per cent allocation would allow just 80 Hammers fans to travel to Wales to watch the match. UEFA requires a category 2 stadium to host qualifying stages the minimum requirement of which is a 1,500 seater stadium.
A West Ham insider said: "I think we need to see the draw first. We'll look at each game on case by case basis" 
1,600