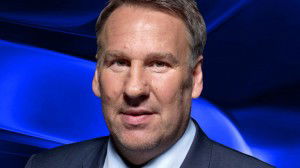 It's often best to ignore the pundits but honestly talk about making a fool of yourself and the job you are supposed to be doing.
I'm talking about Paul Merson and a recent statement which must surely go down as one of the most stupid in a very long time.
Prior to the defeat by Wolves last weekend we had been beaten only by Manchester United and Brentford  in the Premier League as we strode into the top four.
But apparently that's not good enough for the former Gooner who reckons he has found a reason to worry about the Irons.
He declared – presumably seriously although that's pretty difficult to believe  – that they obviously have a problem.
He said: "West Ham beat Liverpool this month, but lost what should've been a run-of-the-mill game against Wolves.
That's been the problem with them this season – they've found out that it's easy to get into the top four, but the hardest thing is to stay there."
One defeat ahead of Wolves and we hear that sort of remark. I have no reason to start bleating off at length because it's such a ridiculous remark – and true of all clubs – I'll simply leave it with you.