By Rich Sprent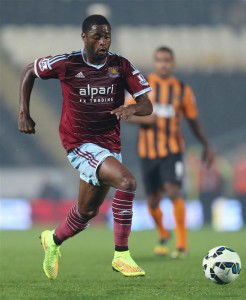 Now the euphoria of the Cup win over Everton is beginning to settle its time to look at how the team actually played.
The game was a barometer for  Premier League outfits outside the top four and while many will look at the first signs of a partnership developing between Carroll and Valencia I believe it is the midfield that again attracts worrying glances.
It was glaringly obvious that Song was not fully match fit and his substitution was inevitable. Noble got about a fair bit in the first half but once the Cameroonian left the field he and Nolan looked sluggish and made things difficult. The lack of back four protection the team having to drop deeper and deeper to compensate.
Jarvis looks lost having to receive the ball and pass it around. Nolan provides experience and makes a fair number of interceptions but his lack of pace is exposed with only Noble beside him.
With both of them together it promotes deeper defending to compensate for their lack of pace and movement. It also promotes longer passing from the defence to relieve the pressure.
Imagine how good it must look to see Andy Carroll up there when you have the ball as a centre half. That the pass needs to be of quality and have good support from a pedestrian centre midfield is the issue.
Amalfitano provides a good touch and has desire to go past players. He requires movement around him however. Having 50 per cent of the midfield unable to provide agile support makes his workload very difficult. It cannot always be left to Downing to pick up the ball and make something happen. 
Sakho and Valencia provided a very different outlet as a partnership. Both are pacy and make unselfish channel runs. With Carroll however, it needs quicker support from the midfield. Make no bones about it, Carroll IS devastating to play against.
That Jagielka left the field wearing practically a camouflage jersey is testament to the times he had to pick himself up of the Boleyn turf.
Valencia began wide left and made good connecting runs from play off of Carroll. The partnership is a work in progress and will require help from the engine room to flourish.
Hull will provide a very different test tomorrow. With a fully fit midfield we should prevail.
But life without a Song looks very pedestrian