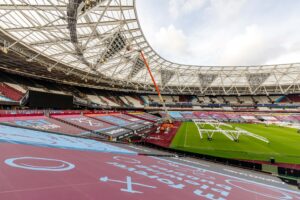 London Stadium insiders remain stunned that the London Legacy Development Corporation have still failed to land naming rights for the Hammers home.
And were they to enter fruitful  talks with the public sector organisation it would be one of the first things the club would address.
Following the arrival of Daniel Kretinsky as the club's newest investor a bigger picture is emerging for the club who would be keen to enter talks with the LLDC.
They have no intention of swapping an incredibly good tenancy deal for ownership of a loss making stadium but they are more than ready to enter talks in a bid to make the LS truly their home at some point.
One insider told ClaretandHugh this evening: It seems impossible to realise that the stadium still carries no naming rights which could make a big difference to the accounts.
One source told us: "Naming rights is just one issue – there are others. The reality is we are better at running a business such as this."