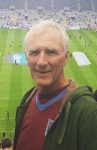 By CandH blogger Allen Cummings
If anyone is expecting pretty and even sexy football over the next few months then they should, as they frequently say on the TV sportscasts – "look away now"!
It's no good people stamping their feet, shaking their fists and marching up and down protesting it's not the West Ham Way. The fact it is it's 'exactly' the way it has to be right now, as David Moyes plots a path to get us out of the mess into which we have descended.
Saturday was, for me, the rest of our season in a nutshell. We looked, and have looked in Moyes first four games in charge, more solid at the back, more organised as a team and more focused as a group of players.
Of course 'solid' and 'organised' wont win you games on their own, and we saw that for yourself against Everton. You need players who have that bit of 'extra' to offer, players who can take a game by the scruff of the neck and win it for you.
On Saturday we lacked that kind of player. Manuel Lanzini had that special talent, but sadly this season he has consistently failed to show anything like the form we once saw from him.
That's why we need to see the return of Felipe Anderson and Michael Antonio as soon as possible to provide that much needed match-winning quality.
Had either been available on Saturday I believe we would have collected all three points. Snodgrass and Fornals will always provide effort and commitment but they are not match winners.
Haller can score goals, but as proved once again against Everton, he needs support. With Antonio alongside him against Southampton he looked a different player.
With Anderson playing in and around him against Bournemouth he looked so much more effective. With both of them back in the side, I firmly believe it will only be a matter of time before we begin to breathe a little more easily.