Way back in 2016 ClaretandHugh published this article explaining the huge difference in the amounts of money paid for the use of the London Stadium by West Ham and UK Athletics.
In the light of recent events we thought it worth running again given the tensions that are apparently surfacing between the stadium owners and the club over security and other issues.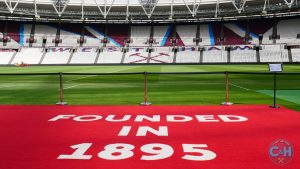 There was a public tax payer outcry when it was revealed that West Ham will pay £2.5m per year to rent the Olympic Stadium.
UK Athletics have now had their agreement published after the latest Freedom of Information request.
The previously confidential agreement reveals that UK Athletics will pay a basic £35,000 'Maintenance Fee' for an exclusive six-week rental called the 'Athletics window.'
An additional 'Super Profit Payment' is due for Athletic events that make a significant profit.
This profit share amount will be equal to 15 per cent of the full  event revenue less UK Athletics running costs and the average revenue they made in the three years before moving the Olympic Stadium for the same event.
As a result they will not share any profit on the first 16,000 tickets. UK Athletics will also pay the stadium operators their 'Operating costs' for each event at cost price.
The stadium operators will keep all 'normal' food and drinks sales but Athletics will keep all the hospitality money, less a 10 per cent admin fee from stadium operators.
As UK Athletics have the exclusive use of the former Olympic Stadium for up to 45 days per year in what is termed the Athletics window  which runs from the last Friday in June to the end of July or 1st August if the 31st July falls on a Sunday.
This year (2016) that is less than £778 per day rental compared to the Hammers rent of £100,000 per day which is 128 times that of the Athletics people.
You can guarantee this news will not create the same media storm that West Ham's agreement did when it was released and it will pass by largely unnoticed.
You can read the full agreement with UK Athletics HERE