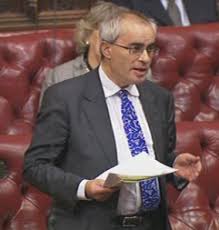 Lord David Pannick QC (left) – who is heading the Irons fight to get  Andy Carroll onto the pitch against Villa on Saturda has real form with the Hammers!
The top barrister is understood to be advising the Irons on a series of moves they can make with the FA between now and Saturday aimed at getting Carroll on the field at Villa park.
Full details of that are in a sepeate story just posted on Claretandhugh @ https://www.claretandhugh.info/hammers-step-up-bid-against-fas-ac-ruling-he-could-play-against-villa-after-new-moves/
Lord Pannick  is the self same guy  chosen by Sheffield United  to serve on the arbitration hearing panel back in 2007 when they fought to be reinstated to the Premier League over the Tevez affair.
 It was that panel who ruled in favor of the Blades and led to the out of court settlement believed to be £18.1million which we only finished paying last year.
Howard Webb – who red carded Carroll – is a self confessed Sheffield United fan, when back in 2006 he  denied tabloid stories that he is a closet Manchester United fan.
He was speaking in South Africa where he is one of the nominated referees for the Confederations Cup.
He told FeverPitch what English newspapers write about him being a United fan is s**t.
He said:  "I don't even come from Manchester. If anything I prefer Sheffield United to Manchester because I come from Rotherham which is 10km from Sheffield,"