By Simon Leyland
Put your hand up if you remember the "Pound shop Messi"
Signed from the Uruguayan second division outfit Deportivo Maldonado in 2016, he made 16 appearances for the club and scored only one goal.
Playing alongside the hopeless Simone Zaza, the useless Gokhan Tore and the feckless Sofaine Feghouli was the newly signed Jonathan Calleri – who initially made little impression, beyond confirming the fact his second touch was a tackle.
As we attempted to come to terms to playing in our new stadium and slipping into our natural habitat of the bottom six, chances were few and far between for our new Argentine Messi.
His first, and only, goal for the Hammers came in a January win at Middlesbrough. Already leading 2-1, he hit the ball seemingly to end up hitting the corner flag but somehow managed to deflect off Boro's Adam Clayton and ended up in the net.
Calleri's defining moment was still to come. Later that month as West Ham and Stoke were grinding their way to a no-score, bore draw. Calleri found himself with the chance to become the match-winning        hero.
This is when the blood rushed to his head and with only the goalkeeper to beat, he decided on perhaps the worst rabona ever, and the ball trickled into the grateful arms of Shay Given.
It goes without saying that West Ham did not pay the £16million to make his loan stay a permanent one.
 Wrong, wrong, wrong and thrice wrong!
Football stopped being a fairy tale some time ago (the start of the Premiership perhaps?)
But if City are found guilty of cooking the books over an entire era of collecting endless silverware, they will have snuffed out that light for good. For they have not only broken the rules but that magical spell.
The sense that what you are watching is real, credible and most importantly straight.
This affects the lives of all we fools caught up in this wonderful and heart breaking thing.
Football is a narrative in so many lives. Feelings of triumph and gloom (much like our club song); difficult financial choices; the opportunity cost of a season ticket or an away trip, with pleasures of all types given up along the way.
The ghouls of the Etihad are accused of not just breaking the rules but ultimately betraying that spectacle.
Don`t forget this is the club that has won 14 domestic trophies over that period. These are the scoundrels who have pickpocketed favourite players from all teams, retained arguably the best coach in the world, and dominated the stage. All of this, yes all of this has been based on being able to pay for it.
As the sainted Frankie Howard would have said ….Wrong, wrong and thrice wrong. I hope they throw the book at them and while they are at it also take a look at the more than strange goings on at Stamford Bridge.
Fascinating stuff from our favourite anoraks at OPTA
As we all know the mighty Hammers have steadied the ship a wee bit after a potentially ruinous run of six defeats in seven either side of the World Cup break, with us having collected five precious points from our last four matches – only using 1-0 to Wolves.
Even though we are currently 17th and just one point above the relegation zone, our anorak clad friends point out that we are ninth on expected points (xP) per game, and despite the seemingly nonstop injuries and shenanigans defensively, we seem to be doing something right.
What surprised me, to such an extent I lost my biscuit mid-dunk in my tea was that the Irons have allowed just 1.31 xGA per game ranking them as the fifth best defensive team in the Premier league.
Chelski, bar a shaky six-game spell before the World Cup break, have been solid defensively, and that has only improved post-break.
In their seven matches since the restart, Graham Potter's side have allowed just 0.94 xGA which ranks third best in that period.
With two (relatively) strong defensive units taking on two inconsistent attacking units, I think we could definitely nick a draw from this one.
A few more Harryisms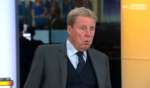 His reaction on seeing Ian Dowie for the first time
"By the look of him, he must have headed a lot of balls"
"When I heard the (FA Cup) draw I was out on the golf course. I had an eight-iron in one hand and my mobile in the other. When we came out with United, my club went further than the ball."
On being asked about the scarcity of silverware at West Ham
"First of all I had to find the bloody cabinet, when I eventually did, I opened the doors and out flew two bats, three Japanese soldiers and Lord Lucan"