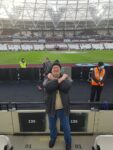 By Hughie Southon
Let's be totally honest – the body language hasn't been good among the players this season but slowly one big reason may be emerging as to why the Hammers squad is struggling.
From what one hears on and off the record that the spirit among some of the guys really isn't what it was this time last season and for all I have had to say on the subject that is not all down to the manager.
Mikey Antonio as the first example has made it clear he is not happy with being second choice and is now being linked with Wolves.
The Hammers have told us that can't happen unless or until a new striker is found but the No 9 is clearly an unhappy bunny and as a long time servant and senior dressing room pro that really isn't great .
It's clear too in the second example that Vladimir Coufal is suffering the same problem. He wants more minutes and has said so. He goes on to add that it WILL be sorted.
And then there's Daws who is desperate to get away up north for personal reasons and may not be able to which will lead to some anguish.
Other players have lost form and given there are problems among one of two of then that's going to be a tough call for Moyes to sort.
If he does so and results start to go his way he will be due a round of applause as the fabulous sopirit of last season is restored.