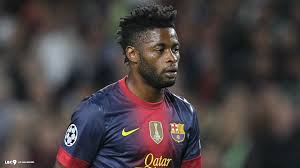 ClaretandHugh has been told tonight  that Alex Song will join West Ham under a deal which sees Barcelona pay his wages in full whilst  getting a £3 million loan fee from us for the season.
Song was introduced to the West Ham faithful this afternoon in the one bright spot of our day before we watched the team crash to a 3-1 defeat by Southampton.
The arrival of Song will tighten things up considerably and give us a hard-to-beat look although questions are already being raised as to who will make way for the former Arsenal player in our midfield.
Barca have been keen to move Song on for some months as he doesn't fit their style and both us and Spurs were interested.
But we have been told that when it became clear that the Spanish giants made it clear they would pay his wages in full the player opted for the Hammers rather than his old north London rivals.
Manager Sam Allardyce is a big fan of the player's fearsome midfield qualities and led the race to get him although co-chairman David Sullivan takes the plaudits for arranging the financials.
A source told us exclusively: "There's a few transfer dramas at Barcelona with an embargo on the horizon. Song was definitely one of those whom they wanted to allow out given they have the likes of Neymar in there.
"But my understanding is that we got him for just the £3 million loan fee with Barca paying his wages."