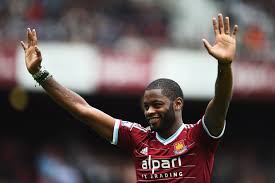 Liverpool's reported hopes that they could sign Alex Song in January have been described as "a non starter" by Upton Park sources.
Speculation arose today that Kop boss Brendan Rodgers may move to have Barcelona recall the player to the Nou Camp in January and re-loan him to the Kop club with a view to a permanent deal at the end of the season.
But with no "break" in the season-long deal negotiated by the Hammers and a signed contract and loan fee in place that's not going to happen.
However, the Irons can certainly expect fierce competition for Song come the end of the season although they hold the 'London trump card' with himself and his wife loving the capital.
Galatasaray remain keen on the player but Song  has settled well at West Ham although if it comes to a shoot-out on wages, the Turks are likely to win.
However, a top campaign and the prospect of playing his football at the Olympic Stadium are strong persuaders for the Irons cause.
A ClaretandHugh source said: "Alex has settled here very well and it was reasonably well known he was available in the summer yet Liverpool made no move.
"Why would we believe, even if it were possible, they would get into such a complicated January situation. It can't happen. He's our player until the end of the season but then of course it becomes a totally different story!"