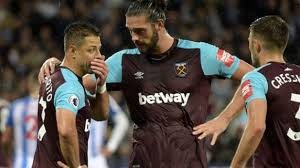 Andy Carroll's day is done.
Whilst media outlets generally have been asking whether he has kicked his last ball for the club we can confirm that the striker is set to leave – and to use Brexit language – he will leave without a deal.
And we can also reveal that Chicharito would be allowed to move on were Valencia, who were keen in the winter, to come in with an offer of between £8m – £10m.
With the pair earning around £12 million a year between them the club would be in a position to afford the capital expenditure involved in bringing one or two replacements into the club.
Celta Vigo's Maxi Gomez remains top of the list with the Hammers keen to clinch a £22m deal for the player – a cut-price figure – should the La Liga outfit be relegated this season.
Carroll at £87k a week – with only two starts this season and again injured – will not be expecting an offer and is now likely to go abroad.
And inside the club there has been massive disappointment over Chicharito's level of form and his  behaviour over recent weeks with hand-balled goals and dives has certainly not helped his cause.