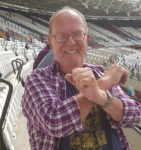 Claret & Hugh Exclusive by Hughie Southon
Reports that a deal which will see West Ham buy the London Stadium has been firmly denied by the club in the biggest West Ham news of today.
The speculation that we could do so has been going on for months but a board insider has made the club's position crystal clear to Claret and Hugh is this exclusive article.
The Mail reported this morning: "West Ham are reportedly exploring the option of turning their rental of the London Stadium into a permanent purchase after it was revealed that the current ownership was losing money 'year on year' at the expense of the taxpayer.
The Hammers are apparently open to seeking a full takeover of the former Olympic venue as Lyn Garner, chief executive of the publicly funded London Legacy Development Corporation (LLDC), explained that the landmark would be running at a loss even if a naming-rights deal was secured.
Un-audited accounts that have been reportedly viewed by The Times apparently show the true extent of a £31.1 million operating loss for the year ending March 31, 2022.
However, the Mail reports that should Daniel Kretinsky stage a full takeover of the Hammers – which is unlikely anyway in anywhere near the immediate future, if at all, he could seek to buy the stadium
But any idea that the Hammers could bail out the London Stadium owners with a full takeover were immediately ruled out by the club.
We were told by a highly placed insider: "Who wants to take on a £20/£30m annual loss and as stadium is now 7 years old there are some huge 'maintenance and repair bills starting that will increase annually.
Our ego might suggest buying the stadium, but common sense say's don't do it! Our rent does go up with inflation, we have the cheapest season tickets in the Premier League due to the wonderful stadium deal we negotiated for the club. It seems that nobody credits the spectacular deal we did!
If we bought the stadium season tickets might need to go up 50/100 per cent !"