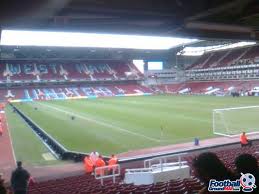 West Have ensured that Spurs have no chance of using Upton Park after they have moved out.
Property developer Galliard Group agreed to buy Upton Park once West Ham make the move to the Olympic Stadium in 2016.
And it has now emerged that a contract clause states the Irons do not have to leave Upton Park in a fit state for football – a situation they will take fully advantage of by gutting the stadium ahead of their exit.
That rules out Tottenham Hotspur trying to rent Upton Park off Galliard while they wait for White Hart Lane to be redeveloped, having already failed in a bid to buy West Ham's stadium to use for a season.
A senior West Ham source said: "It is correct that the Boleyn Ground will not be fit for football after West Ham's final game in 2016.
This is because Hammers fans will be offered the opportunity to secure their own piece of history through a special auction of memorabilia, which will cover most, if not all, of the essential parts of the stadium.