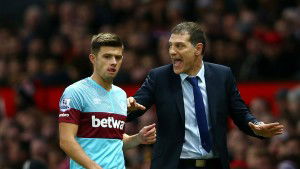 West Ham Head Medc Stijn Vandenbroucke has revaled that Winston Reid, who suffered a injury in training on Friday will join team training after the cup game and be available for selection against Southampton on Sunday.
Aaron Cresswell is progressing well with his recovery from a knee injury and has been working on the pitch with rehab fitness coach Eamon Swift. He is  step up his work by training with the Under-23s in controlled sessions next week.
And in even better news Stijn reveals that if all goes well and to plan, Aaron will re-join first-team training during the international break.
He adds: "Andre Ayew and Diafra Sakho are both progressing well and have been running on the pitch. We will introduce the ball to their rehab work soon, but it is too early to put an exact timeframe on their return to first-team action.
Andy Carroll – who has been at the entre of conflicting reports today – is reported by Stijn to be  progressing wellwill start training with Eamon during the final stages of his rehab ahead of joining first-team training.
But he said: "Sometimes it is difficult with certain injuries to put an exact timeframe on how long a player will be unavailable for, and in those cases we try not to raise expectation by mentioning a date by which we expect a player to return."
Despite AC laiming in a tweet that this is a sic to eight week injury Stijn declared: "In this age of 24-hour news coverage, the internet and social media, there is obviously a high demand for this kind of clarification but, on occasions, it is not possible to satisfy this demand because the return dates are too difficult to predict.
With all injuries, the initial diagnosis can tell us what the problem is and, as a medical and sport science team, we have an idea of how long an injury will make a player unavailable, but it is never an exact science."