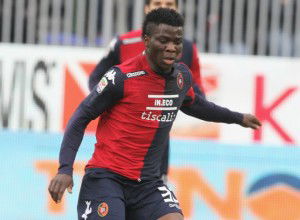 West Ham are said to be taking a keen interest in 18-year-old Cagliari midfielder and right-back, Godfred Donsah who has been compared to his fellow Ghanaian Michael Essien.
According to www.calciomercato.com West Ham have joining other Premier League clubs taking a keen interest in the youngster. Donsah has made 21 Serie A appearances this season for Cagliari scoring twice. He previously played for Palermo and Verona.
He has been reguarly scouted by Manchester City, Liverpool, Spurs, Liverpool and Arsenal
Earlier this year Donsah previously said  "I feel good at Cagliari – we are doing well. I am inspired by Michael Essien. He is my role model."
Agent Oliver Arthur added: "There's lots of interest in Donsah right now, especially from clubs in the UK.
"Manchester City, Liverpool, Tottenham, and Arsenal have made official enquiries about him. For now, they are scouting him, and there is nothing concrete."