It wasn't the best but Sam's return to Upton Park with Sunderland was entirely unsuccessful.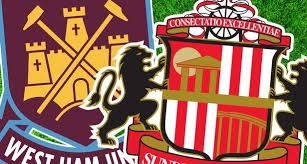 O Great sides don't always play well but they find a way to win when they don't
O As Sam would say..sometimes you got to win ugly!! Lol take those 3pts!
O You get games like this, just enjoying the win. Remember, Sunderland are playing for their survival, they're bound to throw everything at us.
O Definitely not a game to live long in the memory
O We allowed them to call the shots-why-then we had to bring on AC to try and play their way. Dreadful -but I'll take the three points, thanks Sunderland
O Not many 12 pm games are an good tbh. Should be stopped.
O Oh the irony of beating Sam at his own game – play awful and nick a goal. Should have dominated that game but sometimes you get games where everyone is poor, every ball drops to an opponent, every 50/50 the ref gives to them. That's what I saw today. Glad it's over, we won and that's all that matters today.