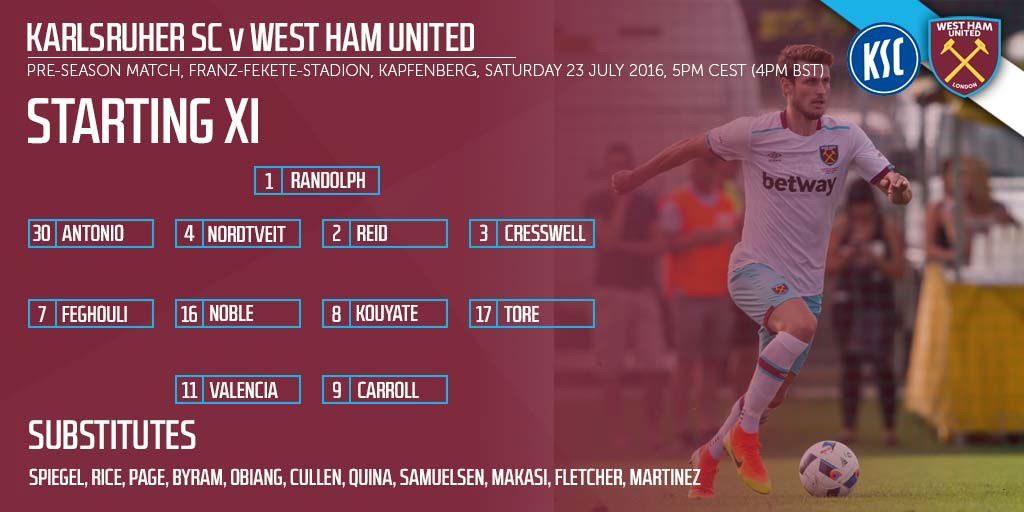 The team is in and is the strongest we have seen on the tour so far.
And they have kicked off
2/ Karlsruher curling free kick collected by Randolph
Hammers have started at a much better termp and launch early attack – four passes – saved by keeper and cleared
7/Fehouli wins free kick – good ball in. Cleared
9/ GOAL: HAMMERS ONE UP Free flowing move – lifted in by Valencia after released by Feghouli – lovely Carroll header across keeper
13/ Free kick to Karlsruher 20 yards out Valentini fires just wide
17/ GOAL – HAMMERS TWO UP. Feghouli grabs his first Hammers goal. Given time to turn and control from 20 yards beats keeper with low skidding shot 
20/ Tore – tricky run at pace – onto Feghouli and desperate tackle averts the danger. That looked a bit special
Irons look 200 per cent fitter – launching some very tasty tackles
34/Feghouli down after being caught but he's fine.
36/ Valencia runs onto through ball but caught offside
38/ Well struck low free kick from Karlsruher – well held by Randolph
Half Time Irons 2 Karlsruher 0
Second half has kicked off
52/ Irons corner taken by Feghouli, headed wide by Nordveidt
54/ Carroll throws a wobbler over a studs up high tackle, shoves the player in chest but it's all a bit of handbags
59/ Valencia gets round the back lobs keeper but inches wide – nice move
62/ More handbags – this time between Valencia who gets a yellow for words at Valentini
Byram and Obiang on for Carroll and Tore
70/ It's all pretty 50/50 and Slav emerges from the dug out loking ready to make more changes but situation remans same for now
72/ Yep hre they come – Ashley Fletcher and young Quina are introduced
82/  GOAL: 3-0 to the Hammers: Young Fletcher makes a near immediate impact with hs second goal in a week stabbing home a decent cross from Cressie.
83/ Wicked wild studs up two footed tackle on Cresswell – he's still down. Hammers make furious rush at the offender
Cressie is on his feet and moving gingerly but looks okay
Final whistle at the end of a very good work out with the Irons running out convincing winners against a team for hom Slaven Bilic once played.
Irons 3 Karlsruher 0
COYI