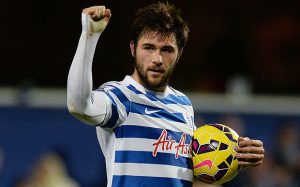 Mark Hughes has begun the Charlie Austin mind games after a jab about how the London Stadium effect may work in his team's favour.
And although he claims Austin could be involved in the action tomorrow (Sat) he stops short of making that a certainty.
Speaking ahead of the match he said: "He's a natural goalscorer and he has this ability.
Sometimes it seems like players are like a magnet to the ball, and when the ball is played in the box invariably natural goalscorers seem to be on the end of things. He is certainly that type of player.
"He clearly has an understanding in where he needs to be in terms of his movement when the ball is coming into the box, and when he does get opportunities to strike the ball invariably it is clean strikes with power and pace, and that will test goalkeepers.
"We need to get him on the pitch but he's done some good work and we are pleased with where he is. Clearly if he's not available this weekend we would like to think he is certainly involved with the games from then on.
"He's very close, we are pleased with where he is and he is pleased and assured in his own mind in being ready to go." Saints boss added: "He's very keen to be involved.
"We have to be mindful he has been out for some time with a significant injury and I sat in with the medical staff on a review of Charlie's injury this week to get a better understanding of what he needs when he gets back.
"It was a significant injury and he's done exceptionally well to get back so quickly.
"He's clearly a goalscorer and one of our problems has been our ability to score consistently in games.
"He's a natural goalscorer, he's instinctive, he gets shots off, he tests keepers.
Saints expect to have both Ryan Betrand and Steven Davis back , with the former having pulled out of the England squad while the latter has been sidelined for several weeks.
"They both should be ok," confirmed Hughes.
"Ryan was more precautionary in fairness.
"He's had a little bit of a problem with tightness in hamstrings all through the season by all accounts so it was more about getting him the work that he needs on a daily basis leading into games.
"The thinking was that while he was away he wasn't going to get the specific work that he needs to make sure he is ok at the weekend.
"He has been able to train the last couple of days so he should be ok."