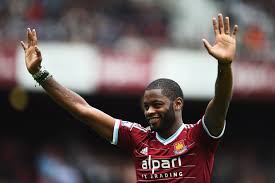 By Rich Sprent
Watching Alex Song's impact when introduced from the bench this afternoon against Chelsea showed everybody the true reality of West Ham 2014/15!
Forget the dreamlike belief that this is a Champions League squad. Song is head and shoulders above anyone else in the team and without him and his ability to make the team tick we would be half a dozen places further down the league.
Yes, we have signed some very good players which has helped enormously but it's Song who elevates them as a group.
It is Song who bonds them into a unit that can compete with top sides. It is Song for whom we have no adequate replacement…and that is more than a little scary.
Reading some of the knee jerk post-game comments after losing 2-0 to the probable champions shows how far we have come; and how so many fans still do not get it.
Without Song the diamond formation is simply not sustainable with this squad against top sides.. He is the only player on the staff who lets the ball do the work; who is comfortable on the ball when facing Champions League winners.
He alone can bring a smooth transition from defence to attack and force the Premier League contenders to sit back.
He ain't perfect. Arguably there are better passers about. But there is no denying his class. He enables the very good players alongside him to play their game. He makes us dangerous as a unit. He helps the team play upto the standards that our league position requires and demands.
The real scary thing is twofold:
O Without him, West Ham we are an improved team on previous years but with a need to fall back on reactive football.
O With him, we are real contenders for a European place. A difference of 4th-6th to our pre-season target of 10th.
To sustain the heady heights however, Alex Song needs an understudy or one of those vey good players in the squad needs to upgrading to his level.
The second scary part is that we actually achieve a coveted European placing and  then fail to keep or replace Song.
That would be like invading Russia with winter coming.