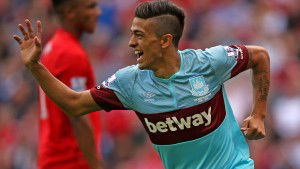 West Ham worst kept secret is out – Manu Lanzini will sign a deal that will keep him at the club permanently at the end of the season.
The deal will be of probably five years with an option for another two on a wage of around £40k a week – by current Premier League standards probably par for the course.
To quote one insider we spoke to over recent days: "It may look like an expensive deal at the moment given an £8 million euro transfer fee but the way this kid is going it could look very cheap at the end of the season.
"We have an unbreakable deal with his club but we don't have to rush to get things done."
Indeed not but it will be done because so many heavy hints have been dropped any secrecy that surrounded the deal has long gone.
David Sullivan admitted to the official site  " We knew he was a fantastic player. Before he went to the UAE he was regarded as the next Messi in Argentina
Next day Lanzini told  the official site he wants to stay and be a a part of things next season. It doesn't get much closer to a 'done deal' than that.
The arrival of Dimi Payet and Lanzini have naturally excited us fans more than anything else, apart from the appointment of Slav.
But let's not forget the hard graft put in to get these deals concluded, the scouting system that's in place and the way everybody is working together as the club grows and grows.
This time last year every one of us could have named the starting line up for the weekend game – those days are gone and that's down to a remarkable job being done by everybody frm the top downwards.
COYI