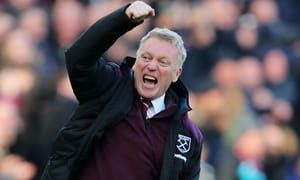 West Ham United manager David Moyes recently claimed that he would love to oversee a long period at the London club, similar to his spell at Everton.
The Scotsman was at Goodison Park from 2002 until 2013, and during his time there he was regarded as one of the top managers in the Premier League.
His career took a turn for the worse, though, when he decided to leave the Toffees for Manchester United following Sir Alex Ferguson's retirement. Could the London Stadium be where Moyes gets back on track?
Despite having sacked Slaven Bilic after the Croatian's time in the dugout became calamitous, the Irons are yet to experience an upturn in form often associated with weeding out a failing manager. In fact, top online football tips are still favouring West Ham for the drop, and the club were placed at 10/11 for relegation prior to the home tie against Chelsea. There is certainly a lot of work to do if Moyes is to turn things around.
The fact that West Ham's new manager has come in after a disastrous spell at Sunderland will not fill Irons fans with much hope. Moyes took the Stadium of Light job at the start of the 2016-17 campaign, and seemed doomed from the outset. He lost 28 of his 43 matches in charge of the northeast club, and only managed to win on eight occasions. In fairness, Moyes didn't have much financial backing and was unable to sign players to strengthen the squad in key areas.
But Moyes has also proven that when he does have a squad of capable players, he can coach them to failure. When the former Everton boss took the Old Trafford job, he inherited a side who had just won the league emphatically under Ferguson with an eleven point lead on their closest competitors Manchester City.
A  year later, the side ended the season in seventh place after having only won 19 top-flight games. To add insult to injury, Everton finished the campaign in fifth place. Moyes had achieved this on two occasions during his long tenure with the Merseyside club, and only bettered it once with a fourth-place finish in 2004-05.
The wealth of Premier League experience that Moyes can bring to West Ham is something that will have appealed to David Sullivan and David Gold. While managing at Goodison, the 54-year-old former Preston North-End defender was in charge of 518 games, and won 218 of those for a win percentage of 42.08 percent.
The Scottish manager was known for his consistency and pragmatism, and earned three Manager of the Year awards during his time with Everton, in 2002-03, 2004-05, and 2008-09.
If Moyes is to embark on a long spell with the Hammers, he'll need to make a strong impression this season and then build from there. If he fails to steer the club away from relegation in the same manner he did with Sunderland last time out, his reign will doubtlessly come to an abrupt end.