E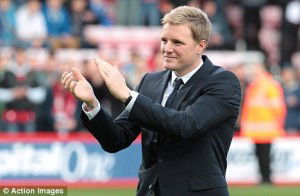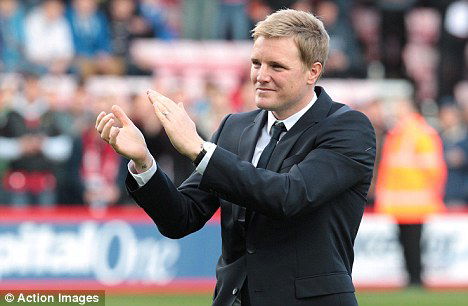 ddie Howe's Bournemouth were beaten out of sight by Liverpool this afternoon and the club now sits one place above the Hammers with the same number of points and just two goals better off!
Now excuse me for saying things that some won't want to hear or believe so can we keep the levels of abuse down LOL but just what is it with the Eddie Howe fan club given the current circumstances?
He has been a big favourite among many to take over at West Ham as patience runs out with Manuel Pellegrini although victories over the next two games could change everything.
Spurs had a new manager bounce in beating Burnley 5-0 today which presumably rules out Sean Dyche as a runner in the Hammers scenario whilst Everton beat Chelsea 3-1 which may tell us more about Marco Silva than perhaps we needed to know!
Back to Howe and my first thought is that a possible reason for the current decline- although I know little about the workings of The Cherries – is that he may perhaps have been there a little too long.
A change of club might be required but I can't see him leaving  the club in this sort of mess unless he gets the boot which is highly unlikely.
So West Ham – were they to want him which may be debatable – look to be as far away as ever from getting him and they would have big questions to ask themselves given the relative positions of the two clubs
It's  reasonable after all to ask whether we want to take a manager who right now is looking little better than what we've got?
Sadly at this point I can see no truly realistic candidates and we had better start hoping and praying that a managerial miracle is on the cards against Arsenal and Southampton.
Truth is we are fighting for our lives …along it seems with Howe's Cherries.
COYI