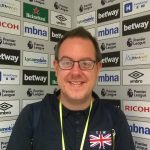 By Niall McDonald
Well I didn't see this one coming!
As the January window petered out who could have predicted that a week later we'd be signing an absolutely top notch player, a proven winner with years of experience at the highest level and a list of honours as long as the walk from Westfield to the Olympic Stadium. And better still for free!!!
Of course there's a downside and as news broke this afternoon I quickly found myself wondering how many years it is since Evra was at his undoubted peak. In the office we could only agree its been a while.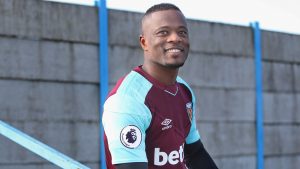 So how will Moyes use him? Is he short-term cover for an absent Masuaku? Is he here as he brings more energy (at 36) than Cresswell possesses?? Will we see him take his place in a back-four for the ages alongside Fonte, Collins and Zabaleta???
However he fits into the side, signing the exact sort of player that we were supposed to not be after, the week after the window shut in out faces, is so off the wall many will hold this up as more evidence of the club's shambolic operations. I'm not sure if this is peak-Sullivan or rock bottom.
And then there's the media launch… Consider the 'Welcome Patrice' videos on the club website and FB page.
Not for Evra the classic 'London Stadium at night' film with sweeping slo-mo shots of him gazing up at the largest cantilevered roof in the Premier League, if not the world.
Instead the great man is featured roughing it at Rush Green, shown blowing bubbles, and grinning wildly as he gives a 'double-finger pistols' gesture which may be a tribute to the Fonz and I'd love to see become a goal celebration as well.
Then we see he's been bestowed the Number 27 shirt, perhaps as a tribute to his countryman Le Snake, or just a reminder of happier times, or perhaps, and it can't be ruled out, with absolutely no irony whatsoever.
Signing off with his catchphrase of "I love this game", Patrice breaks into gleeful laughter – have a look and decide if he's laughing with us, or at us. Jury's out for me tonight.
Either way, he seems keen – Let's see how much you love the game at ten to five on Saturday afternoon…
Bon chance Monsieur Evra!!!!