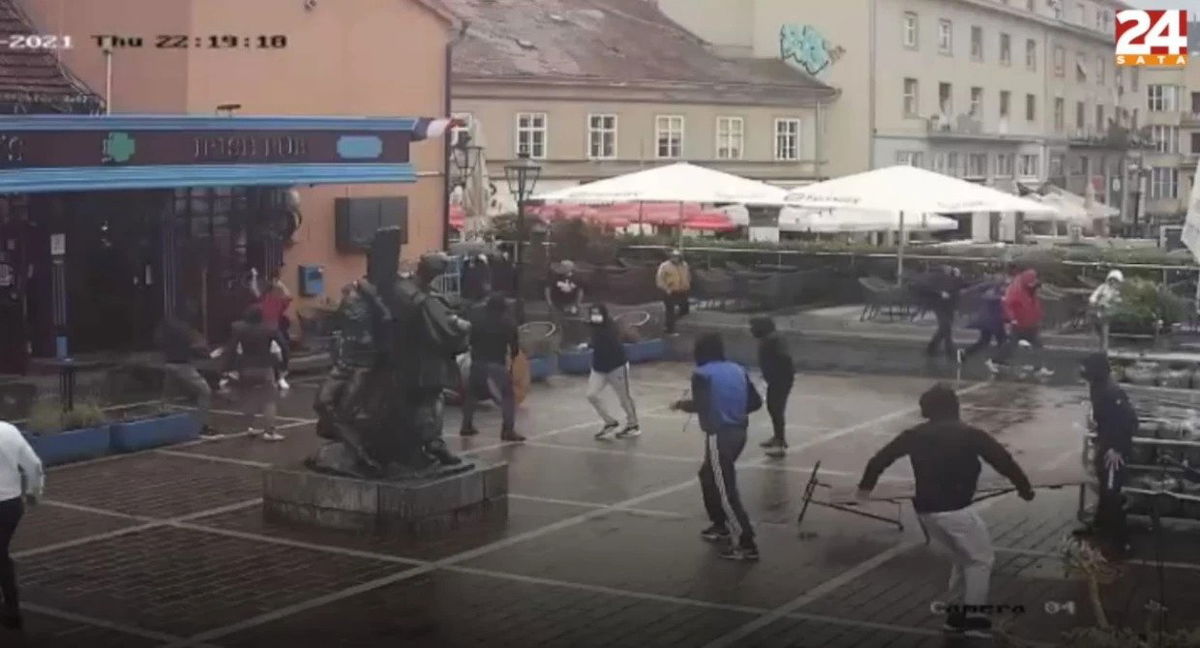 West Ham fans were attacked in a Zagreb bar by Croatian thugs while celebrating their Europa League win.
A group of West Ham fans continued their post-match celebrations in an Irish pub on Friday, only to be ambushed by Dinamo fans.
Video obtained by 24Stata shows the attackers, dressed all in black with masks covering their faces, rushed into the open-face bar.
One person quickly ran away as a table was sent tumbling but moments after launching their attack the Dinamo fans retreated, with both sets of supporters throwing chairs at one another.
Bottles were also used as missiles and one West Ham fan seemingly fended off the attackers single-handedly.
It appears the attack on the Irish pub was isolated with both sides mostly well behaved before and after the Europa League game.
Both sets of fans applauded each other directly after the Thursday night game.
A small number of West Ham fans were arrested in Zagreb following an incident in a local cafe on Wednesday evening before the game.
The Croatian press reported that following injuries sustained by a Croatian citizen a number of West Ham supporters were detained.
A police statement read: "Yesterday, September 15, 2021 at around 9.25 pm at the address in Zagreb in Tkalčićeva Street, police officers who were deployed for security work on the occasion of tonight's match that is taking place at Stadion Maksimir noticed tensions between guests on the terrace of the restaurant followed by a fight between several people, ie visiting and home fans.
"Police officers in a timely manner, using coercive means and batons, isolated and detained four British citizens aged 23, 20, 25 and 23 who were in a group that was physically and using other objects (chairs, mugs, bottles) attacked two Croatian citizens aged 26 and 21. In the conflict, given that the 26-year-old was injured, an ambulance was called while the 21-year-old had no injuries."
Two other British men aged 31 and 35 were arrested following their involvement in the altercation.