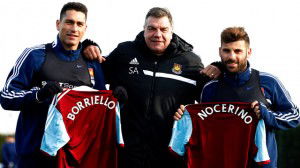 West Ham's new boys are ready to launch themselves at Chelsea this evening!
AC Milan loanee Antonio Nocerino said: "This is a very beautiful fixture. It's an emotional time for me, making my first appearance for the Club and with Chelsea's reputation and how they play at home.
"It is important for us to go there and get something from the game. It is a difficult place to go, but it is an opportunity for me to play my first game.
"This is a fantastic stadium in which to play my first game for the Club and, once the whistle is blown, I will do everything I can to get the points for West Ham." 
Striker Borriello declared himself just as ready saying:  "I've come over to play and I feel ready to play now. If the coach wants me to play on Wednesday then I'll be ready."