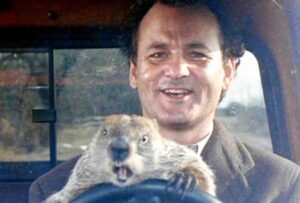 For anyone who has watched Bill Murray in the film Groundhog Day the news that Michy Batshuayi could move to West Ham this summer seems like a Groundhog day moment over and over again.
The striker has been linked to the Hammers every transfer window for the past three years and has reportedly turned us down three times. I am sure it won't stop with Batshuayi so expect an Olivier Giroud report to recycled very soon on a tabloid near you.
Let's not forget Danny Drinkwater, Daniel Sturridge, Gedson Fernandes, Moussa Maragea, Franck Kessi, Joe Allen and JonJo Shelvey who will all be mentioned sooner or later.
We have already heard a report that Marko Arnautovic wants to come back, I'm sure a report will suggest Dimitri Payet wants to return again after seeing the error of his ways.
Maybe Carlos Bacca will finally decide he wanted to be a Hammer after all and leave Villarreal.
It is all part of the transfer rumour game and shouldn't be taken too seriously.