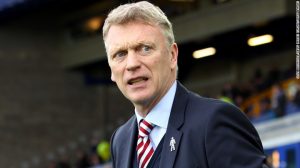 David Moyes made it clear that the Hammers didn't deserve the final 4-0 scoreline at Goodison Park!
Delevering his verdict on the game he told BBC Sport: ""Not good in the first half but a massive improvement at half-time. We didn't deserve that final score. Mistakes cost us.
"The missed penalty [at 2-0] was the turning point. It looked too difficult a challenge once we didn't score it. We never really got at it from the start. We allowed them to get a bit of confidence.
"The [Everton] penalty changed it, it's poor defending from us. Their goals were too easy to score. Joe [Hart] kicks it and Wayne [Rooney] scores from the halfway line. We made our own mistakes. We want to set the team up to be hard to beat and that wasn't difficult [for Everton] tonight.
"It's what Wayne can do. He's always got goals in him and technical ability. He's got the knack of being in the right place to score goals.
"I think we saw some positive signs in the second half. It didn't go for us when we needed it. There were a lot of small things we needed to go for us."