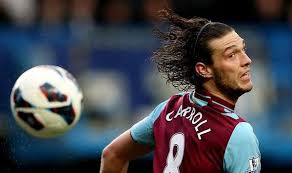 Well now it really is official – all the 'Andy Carroll back to Newcastle' stuff has proved to be entirely false – as reported by the newspaper that started the bandwagon rolling.
The Newcastle Chronicle – which claimed the move was very much on and that the Hammers were ready to "offer" the striker back to the club for £6 million has now reported 'the deal that never was' won't happen.
And they back it up with a quote from his agent Mark Curtis who when asked whether it was on said: "Not a chance."
A report on www.chroniclelive .co.uk says that he has told close friends he has no intention of leaving the east end even if he was made available.
ClaretandHugh has regularly reported – and been the only media source to do so over the last 48 hours – that Carroll will definitely be staying having been told by a top club insider: "We don't offer our players to any clubs.
And co chairman David Gold said: "He will come back a new player and is desperate to do well for his club and is focused too on an England return."