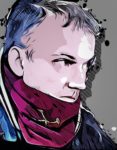 Gonzo and his guilty pleasures
I must confess that transfer rumours and tittle tattle are a guilty pleasure of mine.
I love the transfer window and associated gossip even though I'm  fully aware I should probably throw my eyes to the ceiling and disbelieve everything I read.
However I'm addicted to the stuff. Nothing gets me refreshing my browser quite like the rumour of an unbeknown footballer  from pastures far afield.
My sensible self is constantly reminding the excitable child within me that all of this transfer nonsense is 99% twaddle but I really can't help myself.
I'm fully aware that West Ham had a significant summer 'spend-up',  I know our January budget probably consists of the loose change that's fallen down the cracks in the sofa.
But does this mean I've given up on the prospect of winter transfer activity? . . . . absolutely not.
I find myself asking  . . . What if we get the Vlasic money early? What about a loan or two? What about that Ben Brereton Díaz bloke with 6 months on his contract? Can we get Man U misfit Aaron Wan-Bissaka on the cheap?
Okay. I might be clutching at straws but that won't stop me waiting for a Sky Sports News update or a notification on my phone telling me West Ham are battling it out with Real Madrid for Brazilan under 17 starlet 'Nigelinho' (okay, I made that bit up but you get the idea).
Speaking of South American youngsters it does appear that the Hammers are close to signing Brazilian defender  Luizao from Sao Paulo.
I can't claim to know anything about him and a brief scout on YouTube hasn't revealed anything particularly spectacular. He may well turn out to be more Wellington Paulista than Roberto Carlos but you never know?
New signings might struggle to settle and Moyesie probably won't have a clue what to do with them but bring it on.
So welcome January gossip columns, yellow scrolling newsreels and unsubstantiated falsehoods. . . . it's Silly Season again!