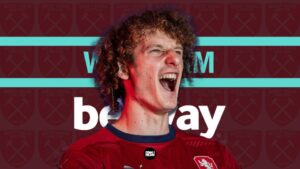 There was a moment in the interview following the Newcastle game when the after match reporter  mentioned to David Moyes that the team may have been struggling because he had such a thin squad.
The Hammers boss laughed and said: "You don't need to tell me it's thin…I think I know that…" or words very much to that effect.
I raised something of an eyebrow hearing his response because it seemed to contradict some of the words we had heard from him previously when claiming he was happy with a smaller squad which had done so well anyway.
But it remained something of a U turn perhaps in his thinking as we remain in the top six, all clubs have their slumps in form although with so many games coming upon us in three competitions tiredness and perhaps injuries will become an on going problem.
On Saturday for example we have only one fit right back apparently – Ben Johnson with the manager admitting that Antonio and perhaps Soucek haven't been themselves whilst Benrahma still has to find his best form.
Soucek claims the team have been working on new things in training and I'm intrigued as a result to see how we approach a game against a very good Wolves team who defend for their lives and do so very well indeed.
Should they take the lead there could be cause to worry as they are an incredibly hard team to break down.
Moyes team is going to be interesting with one or two needing a kick up the backside by perhaps not being involved in the starting line up – Mike and Tomas even among them.
This would be my team with Vlasic supporting Antonio up front in the false nine position which Hesse Lingard filled so admirably last term.
Fabianski; Johnson, Dawson, Zouma, Cresswell; Rice, Kral; Lanzini, Fornals, Vlasic, Bowen.
The usual script needs to be re-written and one or two need to be playing for their places again even in a squad which Moyesie now seemingly admits is thinner than he admitted earlier.
Give us your teams guys!
CandH Prediction 1-1