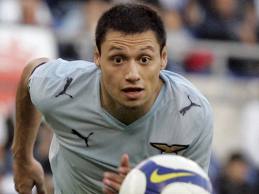 By David Hautzig
As soon as the Zarate rumors started, I called my mate Carlos. @carlosronisky
He is from Argentina, moved to the USA as a kid, and lives in the apartment building I used to live in back in Manhattan.
As much time as I spend watching English football on wide screen televisions in HD, he spends huddled in front of his laptop watching choppy streams of the Argentinian league.
At first, he couldn't talk to me. He teaches marketing at a university and was busy grading papers. Once he got his bloody priorities straightened out he took some time to talk a little about our new number 10.
And by the way, he is a lifelong supporter of Argentinos Juniors. The original team of one Diego Maradona. Of course, Maradona reached his greatest heights playing for another team.
Oh, and Argentinos Juniors were just relegated. So he understands what it's like to support a team like West Ham.
Q: So. Amigo. Is Zarate any good?
A: Gotta correct your pronunciation first. It's ZAR -ah-tay. Not Zah-RA-tay. Yeah, he's quite good. He's got a lot of ability. He's not very tall, and I know from you that your manager likes them as tall as possible.
But he has a great first step, an instinct to run into spaces. And that could suit him and West Ham well if he can get onto the flick ons created by Andy Carroll.
He also is very good at holding onto the ball, protecting it while others come into the action. One of the things I always question when watching the English game is when a long pass is made to a guy that can't keep the ball. By the time he gets support the ball is heading back down the other way.
Zarate also needs to have a good relationship with his midfield. That's what he had at Velez. If he works well with your midfield, then you have yourself a big name player. He's not a B guy so to speak.
Q: Do you think he will adapt to the English game? It's not like there is a laundry list of successful Argentinians in England.
A: Yeah, he should be fine. Again, he is good at working with a big striker. That's what he did at Velez with their big man Pratto. Zarate is not a classic number nine in the Argentinian mould. He's not like Crespo. But he can adapt to what's needed. He can play on either wing, and he can even drop back to help set things up.
Q: Why isn't he on the 23 man roster for Argentina?
A: He has five caps, and was called up most recently by Maradona. He's basically a notch below Tevez. He could be a starter on many international teams, but there are just so many spots available.
Q: I've been reading about his reputation as a troublemaker.
A: I've never heard much about that. I know about the Nazi salute while he was at Lazio, but that was more a matter of ignorance. Stupidity, really. He's nowhere near as much of a troublemaker as Tevez.
Q: Well, the fact that he bought out his contract is looked highly upon by the Twitter world of West Ham.
A: I heard on Argentinian radio that what he did was forgive the debt the club had with him. Velez is not a poor club by the way. They have a very nice stadium. They're no Boca Juniors or River Plate, but they're solid.
There you have it. If he turns out to be a South American Maiga, I'll give Carlos enough grief for all of us.