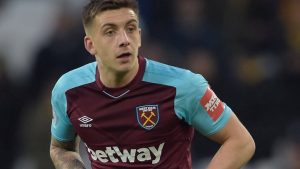 Jordan Hugill may never get the chance to play with the greatest footballer he's ever seen but at least he can say he's trained with him.
Hugill is currently doing the business for Queens Park Rangers on loan where he has scored five goals in six games for the south west Londoners.
That has prompted suggestions that the Hammers may recall him in January if they are in trouble up front. Just one problem there is no release clause in the deal.
However, Hugill admits that one of his greatest experiences was watching the amazing Manu Lanzini on the training pitch admitting he's never seen a player like him.
The Argentine returns from international duty late on Friday evening ready to spark the Hammers into action hopefully at Villa next Monday evening.
And Hugill can't hold in his praise for the brilliant Hammers inspiration who has been on fire this season.
He told the QPR website: "He's brilliant, he's amazing. I've never seen a player like him; Manu Lanzini.  The things he can do with a football, it's incredible just to watch him and in training its even better."