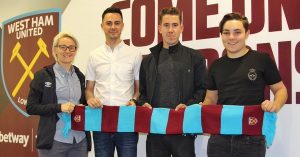 Jack Sullivan, son of Joint-Chairman David, has been appointed managing director of  West Ham United Ladies.
The move comes as ambitious plans are unveiled to get the Ladies promoted into the FA Women Super league within five years.
New Ladies managing director Jack Sullivan told WHUFC.com: "This is a massive project of great importance to West Ham United. We have some exciting plans and huge expectations for the Ladies team, as we do for the mens, and we hope that within five years we can be challenging in FA WSL 1. 
"For me personally it's a huge project and something I can't wait to get started on. Whilst I will not be taking a wage from the Club, I am excited to be taking on my first full-time role at West Ham United and looking forward to the challenges ahead. 
"We hope to make huge strides this summer before the new season starts, and plan to unveil a key player signing, with WSL experience, in the coming weeks.
"The Ladies team has great potential, and with the help of Karen Ray, Greg and Josh Ewens, I hope I can help guide them to some exceptional achievements and make them a team that the whole football Club, and its supporters, can be proud of."
Since leaving school the teenage son of the chairman has spent the last six months carrying out enhanced work experience in different departments within the main club to learn the ropes for this role.
The grander plan could see Jack Sullivan take over as Chairman of West Ham United one day in the distant future.