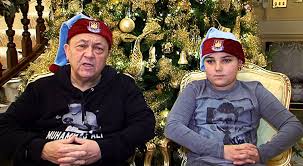 It really would be nice to become a fly in the wall of David Sullivan's Essex mansion now and again – especially tonight.
For it seems the mood is swinging only one way over the future of manager Sam Allardyce in the mind of one member of the family.
Sullivan's 13 year old Jack  has never been shy of making his position clear on Twitter.
And a little while ago this appeared as the teenager appeared to join the Sam out brigade.
"@FatSamOut: #AllardyceOut ……….. @jsullivanwhu Sadly it not my football club
Mr Allardcyce makes his long awaited appearance before the board on Tuesday as he bids to keep his job.
He may be relieved that the co chairman's youngest son won't be around with a vote!