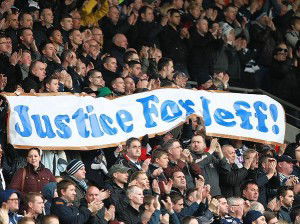 JUSTICE FOR JEFF ASTLE
Nine minutes into Saturday's game a large banner will be unveiled opposite the away end reading 'Justice for Jeff' which starts a minute's applause – nine being the famous shirt number Jeff Astle wore. The two big screens at The Hawthorns will also display a picture of Jeff with the words 'If in doubt, sit them out' which refers to the dangers of concussion in sport.
Jeff's daughter Clare Astle says the 5,500 West Ham fans are more than welcome to join in with the applause if they choose, for which the Astle family would be very grateful for. If not, they would like to take this opportunity to make them aware of our campaign if they haven't already seen it via the national media.
The Justice for Jeff banner has been at every West Bromwich Albion home and away game and will continue to be for the rest of this season. Hopefully by then, the promised research into the links between heading footballs and brain damage will be in its early stages and, just as importantly, the research into former players and instances of dementia will have commenced.