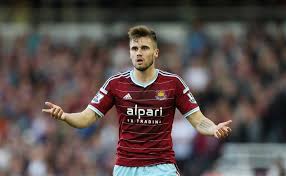 Arsene Wenger has insisted his target is to keep Carl Jenkinson at Arsenal long term after holding talks with the defender this week. Wenger says he wants to keep the right back and will only consider another loan deal for the defender next season but could bring him back.
Speaking in his pre-match press conference ahead of Monday's game with Swansea, Wenger said: "I met Carl this week to speak about his future, we will sit down together at the end of the season, but my target is to keep him here at the club. He has had a great season for me and he has moved forward and overall he has gained a lot of confidence. The decision I have to make is do I bring him back now or does he need one more year now to play in the Premier League. It is not decided yet.  That's what I have to decide at the end of the season, he needs experience. Carl is a young, very promising right back with top quality and he had a good year where he has really moved forward. It's important that he has a good chance to play if he comes back."
The news will come as a blow to West Ham who were hoping to tempt Arsenal with a permanent deal for the right back in the summer.  Carl Jenkinson current loan deal with the Hammers finishes on the 24th May.