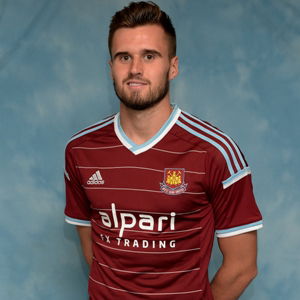 Carl Jenkinson can't wait to make his first performance in a West Ham shirt- hopefully during the  this weekend's Schalke 04 Cup in Gelsenkirchen.
Speaking to the official site at www.whufc.com he said: "I'm coming into a new club and first and foremost I want to make a good impression on the gaffer, the players and everyone at the club.
"I've played in two friendlies with Arsenal and I've got a few games to go to play my football before the season starts.
"The first thing you want to do when you come into a club is to play and express yourself. We've got a game on Saturday, so hopefully I can get going straight away."
He explained he'd spoken to Sam Allardyce about his role in the team and that he  wants to be able to express myself and get up and down.
He said: "I am a very attacking full-back. I like to get up and down and I know I'm going to have the opportunity to do that here as well.
"Fingers crossed I'll get a few more goals this season, too.
"Hopefully I can play my game here. It's a great opportunity and I just want to come here, improve the team, express myself and play football. I've missed that at some stages over the last three years where I haven't played as regularly as I'd have liked.
"Hopefully it'll be a great year for me and it's one I'm really looking forward to."