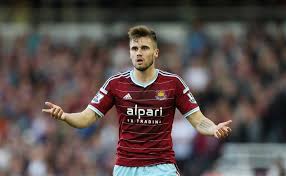 Carl Jenkinson's attitude towards all things West Ham suggest he WILL become a permanent fixture at the club next season.
All season his enthusiasm and readiness to hold a view on the possibilities for next season appear to show a deepening attachment to the club.
And with Arsenal – as reported previously on this site – well placed for right backs it will be a surprise if he doesn't become a full time Hammer next season.
Sources inside the club  have made it clear that Guy Demel can leave and a £6 million deal seems well on the cards for Jenkinson.
The Arsenal loanee's latest pronouncement on the teams position remains relentlessly upbeat despite the disappointing run of results.
"It's time to regroup and we've still got a very important run-in until the end of the season. A European place is what we've targeted up all season and that's still the case. I think that's realistic.
"Our luck will change and things will start going for us, hopefully. And when they do, we'll get some points on the board."