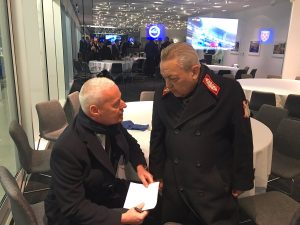 Talksport presenter Jim White has come under further criticism about his defence of his friend West Ham chairman David Sullivan.
White posted on his Twitter account this morning "Spoke to  West Ham co-owner David Sullivan after Brighton defeat. He appeals to fans for unity. Will reveal details of our discussion on Talksport at 10.45am"
During the radio show on Talksport, White said Sullivan told him: "Chants of sack the board and opposition to me and David Gold will mean nothing. Get behind the team, though unity we can turn it all around. We don't want to find that a disappointing season has turned into a disastrous one."
Sullivan told White that he spends 80 per cent of his business day on West Ham and revealed he made a £25m bid for Stoke City midfielder Joe Allen only for it to be rejected in the January transfer window.