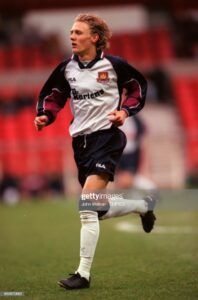 Former footballer and Soccer AM  presenter Jimmy Bullard says he has never been so excited at a start of a season as this season as a West Ham fan.
Speaking on Instagram Jimmy said "We didn't play as good as we have been [against Aston Villa], but I'm really excited. I haven't been this excited as a West Ham fan, you know what we've been like. I like the boy up front (Sebastien Haller) really, really good. Anderson has been on fire. I like the way we look, I'm so excited."
East Ham born Jimmy Bullard played youth football at West Ham United before moving to Gravesend & Northfleet in 1998. He returned to West Ham in 1999 for a fee of £30,000 but never managed to break through to the first team leaving on a free transfer in 2001.
He went on to play for  Peterborough, Wigan, Fulham, Hull, Ipswich Town and MK Dons before his retirement from in 2012 through injury.  He went on to manage Leatherhead for the 2016-2017 season and remains the co-host of the Saturday morning Sky TV show Soccer AM