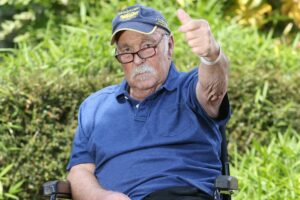 Former Hammer Jimmy Greaves remains in hospital but his condition is not related to the current global health situation or his previous stroke.
Speaking on his official JimmyGreaves.Net his agent said: "I did promise a statement mid morning today when I posted a statement last night . All I can say is no news is good news at the moment. Jimmy has spoken to Irene by phone. During the course of the day he will be having tests and when we find out any news I will post it on here. So watch this space and have a good thought for Jimmy as you go about your current daily routine. His problem isn't virus related and doesn't seem to be related to his previous illness. Hopefully he won't be in hospital for too long. Thanks for the 1000s of you showing concern. England's greatest ever goalscorer is still with us and here's hoping he's home soon"
Greaves suffered a serious stroke in 2015 and was confined to a wheelchair but it appears he is undergoing tests and is likely to return home.
Claret and Hugh say:
In a time of global bad news it good to hear some positive news that 80-year-old Greavesy is not suffering from the virus or another stroke.  I am sure we all feared the worst when we heard he was admitted to hospital last night but he is a fighter and appears to be undergoing tests for an unspecified illness. If this statement is anything to go by Jimmy could be home soon with his family social distancing like the rest of us. Good luck Jimmy!