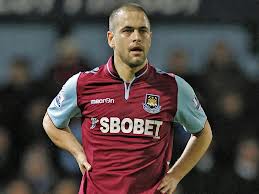 Joey Cole has described  tonight's game at Manchester City as  " massive game for the Club and a massive game for the supporters."
And despite perceived problems this season between himself and Sam Allardyce he declared: "The manager deserves to lead a team out at Wembley in a cup final after the career he has had.
"It would be  great for the West Ham fans to go to Wembley and win. " I have been lucky enough to play in loads of cup finals and win trophies and I want that for the West Ham fans, my team-mates and the manager.
"There are a lot of good, experienced players here who have never played in cup finals in England, so I want it for them.
"We know Manchester City are a top side and we know form would suggest that they are the favourites, of course, but we've got to dig in and football is a funny old game."
"I'm excited! I love playing football and I have massive desire to be a footballer and to compete and win. The next game is always the most exciting of my career.
"I want to do well and to win a semi-final, get to Wembley and win something would be a massive achievement.
"Not many groups of players can do that, so I'm excited about it and am really looking forward to the game."