Joe Cole's early Hammers years was surrounded by much the same level of publicity as has followed Ravel Morrison without the controversy.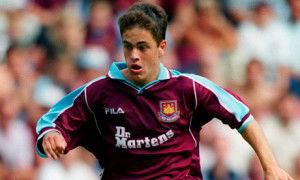 Joe made just 37 appearances, scoring five goals this time round, starting just six times but I prefer to remember him during his first magical spell at West Ham.
He received intense national media coverage and immense pressure at the tender age of 17, dealing with all serenely. 
His first teamdebut came in 1999 as he was touted as the hottest property in English football. It was reported that Manchester United had made a seven figure bid for him the previous year.
The Boleyn buzz was that West Ham had unearthed a new superstar. He scored seven goals in one match against Spain in a youth match and helped West Ham win the FA Youth Cup in 1999.
Four years later he was captaining West Ham in a season where the club were relegated despite him being named "Hammer of the Year".
 During his first spell he made a total of 126 appearances for the Hammers scoring 13 goals. He was signed by Claudio Ranieri for £6.6 million in 2003 in the wake of West Ham's relegation.
Joe was recently quoted as saying "I'm a free agent now and I'm looking for a new club. My relationship with West Ham is great, but obviously it didn't work towards the end of this season. I didn't play enough.So I'm just going to take my time over the summer and find the right fit.
At this stage of my career, finances are not important for me, I want to enjoy my football, I want to compete and I just want to play more."
I wonder whether he could join up again with Harry at QPR with Frank Lampard next season?