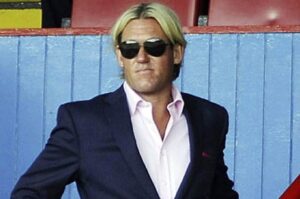 Simon Jordan is what I would describe as a highly articulate footballing failure and not for the first time has decided to give his views on easiest target in the game right now – West Ham United.
It should be pointed out straightaway it's not ALL bad but one wonders how he qualifies to make any point at all on other owners given he led Crystal Palace into administration back in 2009.
Ironically he then entered into talks with David Gold about buying the club which at that time he valued at £10 million.
In trying to save the club by using private money as collateral against the club's debts he eventually went skint and his claim to fame these days is appearing as one of those talkSPORT experts where his background in the game beyond 'former owner of CP' is not mentioned.
One his last appearance he was on West Ham's case when, as far as I can recall,  him claiming to not like Gold that much but found Sullivan ok.
Today as we reported in a separate story he's back on the scene saying:  With respect to David Sullivan and David Gold – who aren't on my Christmas card list – they have backed that football club, whether the people think that they've backed it in the way that they should, or whether they think they could do more, there will always be that argument being run by people,"
He then added: ""Whether people think that they could have handled the move to the London Stadium better. Yes they probably could."
They made themselves look silly in the past when they've said they're going to spend money and they haven't, They've not managed the relationship with the fans the way they should do because there was a big move to the Olympic Stadium and the fans didn't like it and they needed to have handled it better."
I have no problem with anybody taking the Hammers board to task on the various issues which trouble them but it's a tad embarrassing when a former owner who went skint in trying to run CP decides to jump on the West Ham bandwagon which unsteadily rolls along at the moment.