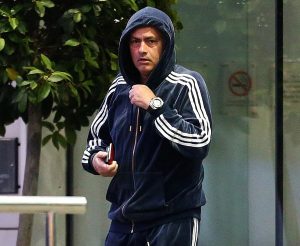 Manchester United manager Jose Mourinho looks like a man under pressure when snapped outside the Lowry Hotel today ahead of tomorrow's EFL Cup game against West Ham.
The downcast Mourinho donned a blue Adidas tracksuit and had the hood wrapped around his head.
The former Chelsea manager's glum mood was for all to see as he made his way to his chauffeur-driven car followed by members of his coaching staff.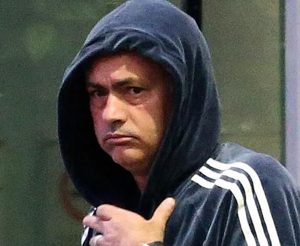 United have not won at home in the league for more than two months; meaning they remain sixth in the standings, 11 points behind table-topping Chelsea.  Slaven Bilic will be looking to take advantage of that pressure together with a team low on morale to power the Hammers through to a EFL Cup semi final. If West Ham manage to beat the Red Devils tomorrow night at Old Trafford they will face either Hull, Liverpool, Newcastle, Leeds, Arsenal or Southampton
The EFL Cup Final will be held on 26 February 2017 at Wembley Stadium.